Maple Shutter Freightlock IQ
Keywords: Maple, Security, Shutter, Lock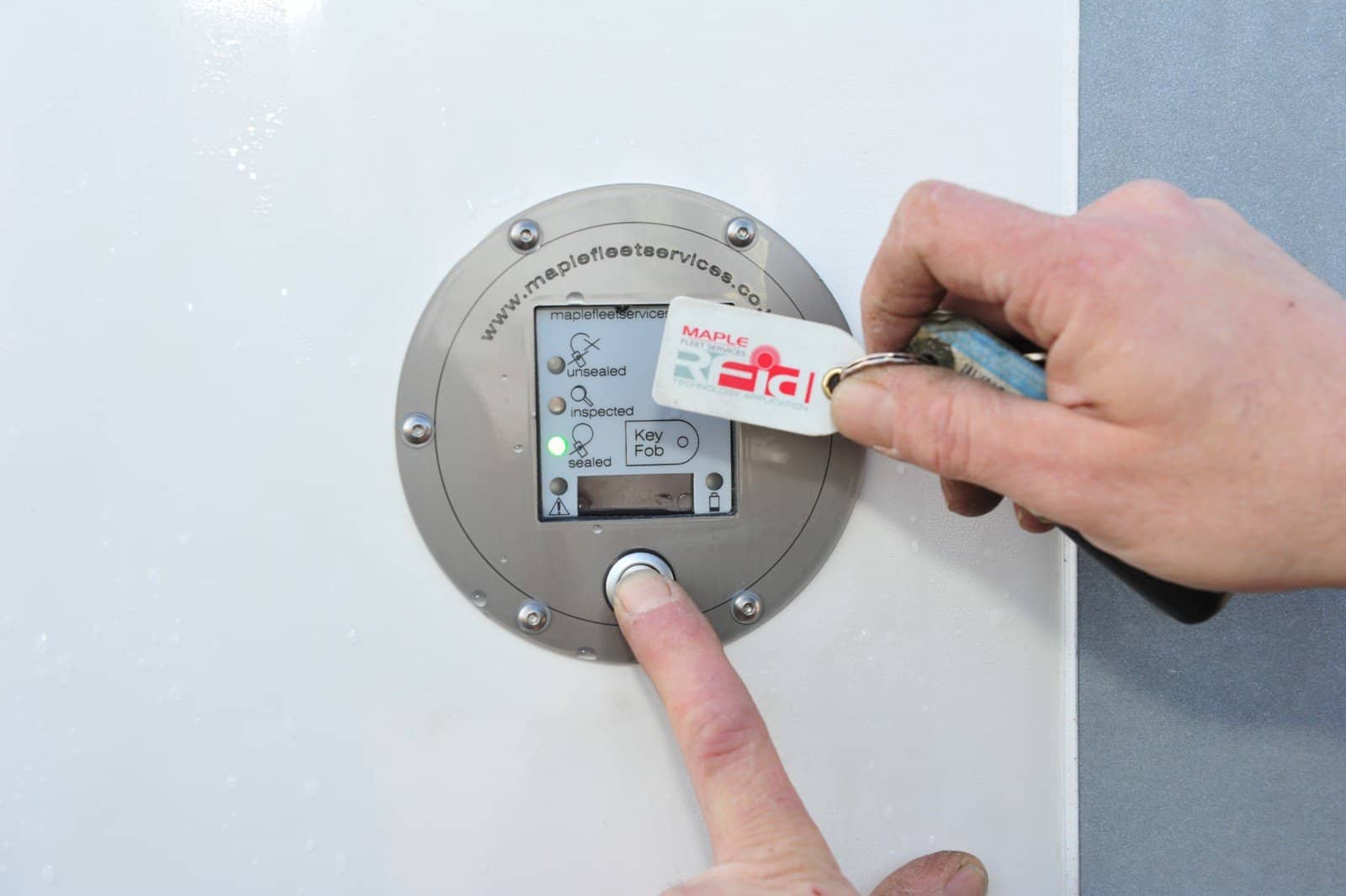 Designed by commercial vehicle security specialist, Maple, FreighLock IQ is an air operated heavy-duty slamlock and access control solution, designed specifically for use on shutter door applications.
The system features a high security locking cylinder which is fitted to the inside of the load area, protecting it from potential attack or abuse; it's position within the 'clean' area also ensures it is not exposed to the harsh environment a commercial vehicle faces on a daily basis, contributing to the reliability in service that FreightLock provides.
In operation, the door locks automatically when closed, whilst the system will also generate a 4-digit electronic seal number that helps to prove and maintain load integrity during goods in transit operations. Each and every door event is captured as part of a comprehensive audit trail, detailing who accessed vehicles, when and where.
For enhanced functionality, Maple IQ systems can be integrated with a compatible telematics system which allows you to enable and disable access remotely.
---
FEATURES & BENEFITS
Air operated locking system for enhanced reliability and powerful locking action
Internally mounted locking mechanism for optimum security
Manual or slamlock operation
Single or multi point locking options
Full audit trail capabilities, detailing who accessed your vehicles, when and where
Simple key management with the ability to issue and delete access fobs
Electronic seal number facility
Remote locking & un-locking capabilities when integrated with a compatible telematics system.
Emergency PIN number access
Environmentally tested from -40°C to +60°C
Low level of maintenance, all mechanical parts are self-lubricating.
---
Disclaimer: Third Party Content
This web page makes information of third parties available. The third party content is not created or endorsed by Don-Bur. The provision of third party content is for general informational purposes only and does not constitute a recommendation or solicitation to purchase or make any other type of investment or investment decision. The third party content is obtained from sources believed to be reliable and no guarantees are made by Don-Bur or the providers of the third party content as to its accuracy, completeness or timeliness. Don-Bur shall not be held liable for any investment decision or other transaction based on reliance on or use of such data, or any liability that may arise due to delays or interruptions in the delivery of the third party content for any reason. There is no warranty of merchantability, no warranty of fitness for a particular use and no warranty of non-infringement. There is no warranty of any kind, express or implied, regarding third party content.